Our Stories
Topics related to REACH will be provided.
Mar. 11, 2022
REACH - The Ultimate Solution to Rice Processing is within Your Reach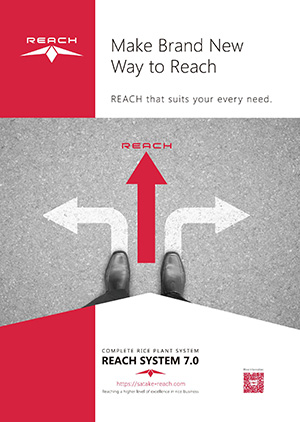 What is and why should you consider REACH? REACH is a modular rice processing plant system that runs from receiving rice paddy, cleaning the paddy and husking to milling, optical sorting and packing.
Traditionally, the complete Satake rice processing system, which was designed specifically for large scale rice production (10~ tons paddy/hour), consists of various machines that may take longer to plan, procure and assemble. However, the REACH system provides all machinery and accessories needed to start full operation in one comprehensive module. Additionally, REACH was made for lower capacity millers with the REACH 3.0 and REACH 7.0 (capacity of 3t/h and 7t/h paddy input respectively).
In the past few years following its introduction, the REACH system heralded a new world of business opportunities to small/medium scale rice millers. Through the REACH initiative, we made our unmatched rice processing technologies easily accessible and within reach for lower capacity rice processors. This provided cost-saving, quicker, and more efficient solutions to their rice milling needs.
Why do you need REACH to succeed in your rice business?
The answer lies in the special features and benefits it offers over any conventional rice processing plant system. We classified the unique features of REACH into 3 main categories:
Smart Investment
High Efficiency
Super Fast Project Completion
Smart Investment- As a business already in the rice sector or just considering to venture in rice processing, adopting Satake's time-proven and superior rice milling equipment will be the smart option to operate with as against cheaper but inferior machines made by copy manufacturers. Our REACH brand helps you maximize returns on your investment, offers you the ability to visually examine cost savings and output efficiency predictions.
High Efficiency- High yields are realized by means of the efficient system which REACH provides. It gives you the ability to optimize your processing operations and product output by checking scale capacity and adjusting blending ratio, all on a simple touch panel. By adding flow scales before and after milling rice, the real-time yield of head rice can be confirmed at a glance. You can also measure your yield and profit during the process.
Super Fast Project Completion- REACH requires a much reduced planning and installation time, up to 25 %. The steel structure/platform already included in the package makes the needed civil construction move faster, where only 2-3 weeks of onsite installation is required compared to the usual 3-4 months required for a conventional plant. Therefore, the overall project period from order to installation for REACH will be a couple of months faster than a conventional plant.
Bonus benefits from the REACH
Customizable- REACH is very customizable. Our design engineers have prepared attractive options that you can customize according to your requirements and site needs.
Remote Monitoring- The REACH system, utilizing our cloud enabled system, makes possible the remote monitoring of rice plant operations. Thus, it places all your plant operations within reach.
Satake's rice milling technology is highly reputable around the world. We provide the best value in terms of machine quality, plant performance and after sales service. Are you new to rice processing? Or are you an experienced rice miller? Adopt Satake's REACH technology to reap high returns on your investment.