Our Stories
Topics related to REACH will be provided.
Aug. 6, 2021
Tuning in to the World' s Top Class Consulting in Rice Processing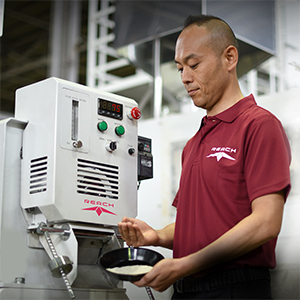 An incessant stream of online requests for advice and consultations from customers all over the world are continuing to flow unabated to Satake.
For those of you who have visited this site for the first time, please allow us to introduce Satake to you.
This year Satake, which is an inventor of modular rice mill REACH, is celebrating its 125th anniversary.
Satake was founded in 1896 by Riichi Satake, our first President. He developed Japan's first power-driven rice milling machines. Since then, we have been striving for technological development and innovative products for the rice processing industry. Satake has always been an industry leader in the area of rice processing.
This symbolic milestone marks 125 years of constant innovation in developing state-of-the art rice processing equipment suited for both small-scale projects and large-scale plants with processing capacity reaching up to several hundred tons per day.
Numbers speak for themselves. In the rice milling market, Satake is boasting approximately 70% of the market share in Asia, 60% in Middle East and Africa, 50% in Central and South America, and more than 90% of the share in North America.
In the next post, we will introduce you to the special features and advantages of a pre-assembled REACH plant. See you soon!
-- -- -- -END- -- -- --