NEWS
The latest information about REACH
May 16, 2019
REACH Debuts at RMTC 2019
Introducing Semi-Assembled Rice Plant in the U.S. for the First Time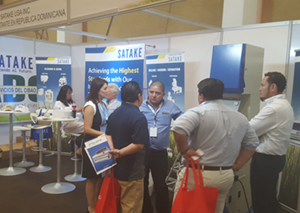 RMTC Satake Booth in 2018
Hiroshima, Japan; May 10, 2019 - Satake Corporation announces the debut of its latest product brand REACH in the US, at the Rice Market & Technology Convention (RMTC).
Satake, a long time sponsor of RMTC introduces REACH for the first time in the U.S. Satake takes this opportunity to promote the REACH brand rice milling plant, highlighting the system quality, short installation time and fast return on investment for the North, Central and South American market.
REACH is Satake's latest product brand for semi-assembled rice milling plant, featuring complete equipment from receiving, pre-cleaning, husking, milling, optical sorting, to packing stage, and an astonishingly fast installation time of 2 weeks. The first product line is a 7 ton per hour plant best suited for medium size rice milling facilities from 25 to 40 thousand ton annual capacity.
RMTC is an annual event which provides an outstanding program for delegates to interact with a wide range of world class economists, scientists and other industry leaders. In addition, RMTC hosts breakout sessions, workshops and other case studies, in which all conference delegates will have a chance to fully engage in conversation with these world-renowned experts.
【About RMTC 2019】
| | |
| --- | --- |
| Date/Time: | June 5 - 7, 2019 |
| Venue: | New Orleans Marriott, New Orleans, Louisiana, U.S.A. |
| SATAKE Booth: | No. 39-40 |
| Organizer: | US Rice Producers Association |

*Please note descriptions in news releases are accurate as of the date of release and may differ from the most up-to-date information.