NEWS
The latest information about REACH
February 27, 2019
REACH exhibited at MIAME for the First Time
Highly Anticipated Semi-Assembled Rice Plant Debuts in Asia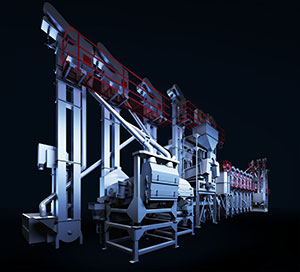 REACH brand rice milling plant
Hiroshima, Japan; February 20, 2019 - Satake Corporation announces the debut of its latest product brand REACH in Myanmar, at the MYANMAR INT'L AGRIMACH EXPO 2019 (MIAME).
REACH is Satake's latest product brand for semi-assembled rice milling plant, featuring complete equipment from receiving, pre-cleaning, husking, milling, optical sorting, to packing stage, and an astonishingly fast installation time of 2 weeks. The first product line is a 7 ton per hour plant best suited for medium size rice milling facilities from 25 to 40 thousand ton annual capacity.
MIAME is one of the largest agriculture related exhibitions in Myanmar, organized by the Myanmar Paddy Producers Association (MPPA) and endorsed by the Ministry of Commerce and other organizations. Participating exhibitors come from all aspects of the industry as well as from around the world.
Satake participates in the exhibition as a gold sponsor and introduces REACH for the first time. While Myanmar makes efforts to increase production of high quality rice with a view to expanding rice exports, Satake finds an opportunity to promote the REACH brand rice plant highlighting the product quality, short installation time, and faster investment return.
【About MIAME】
| | |
| --- | --- |
| Date/Time: | March 1 to 3, 2019, 9:00 to 18:00 |
| Venue: | Tatmadaw Hall, U Wisarya Road, Yangon, Myanmar |
| Organizer: | Myanmar Paddy Producers Association (MPPA) |

*Please note descriptions in news releases are accurate as of the date of release and may differ from the most up-to-date information.